Regular price
Sale price
$16.99 USD
Unit price
per
Sale
Sold out
Share
Alexandrite Birthstone Crochet Hook.  A true gem in the world of crafting. This crochet hook is a celebration of the June birthstone, Alexandrite, known for its enchanting color-changing properties.
The body of this crochet hook is meticulously crafted from high-quality materials that capture the essence of Alexandrite's unique beauty. In its base form, it shimmers with hues of teal, transitioning into shades of violet and blue in different lighting, just like the mesmerizing gem.
The ergonomic handle is designed for comfortable and extended use, reducing hand fatigue and ensuring a smooth crocheting experience. The pointed tip allows for precision in your stitches, making it perfect for intricate patterns and delicate lacework.
Crafting with the Alexandrite Birthstone Crochet Hook is like weaving your creativity with the magic of a gemstone. Whether you're creating heirloom pieces or everyday treasures, this crochet hook adds a touch of elegance and mystery to your projects, just like the captivating Alexandrite gemstone itself.
Let your crochet work be a reflection of your June-born spirit or a tribute to someone special. With this hook, your creations will shine and change with the light, much like the mesmerizing Alexandrite gemstone. 
Every hook is like an art piece, no two hooks look the same!

*Patent Pending
View full details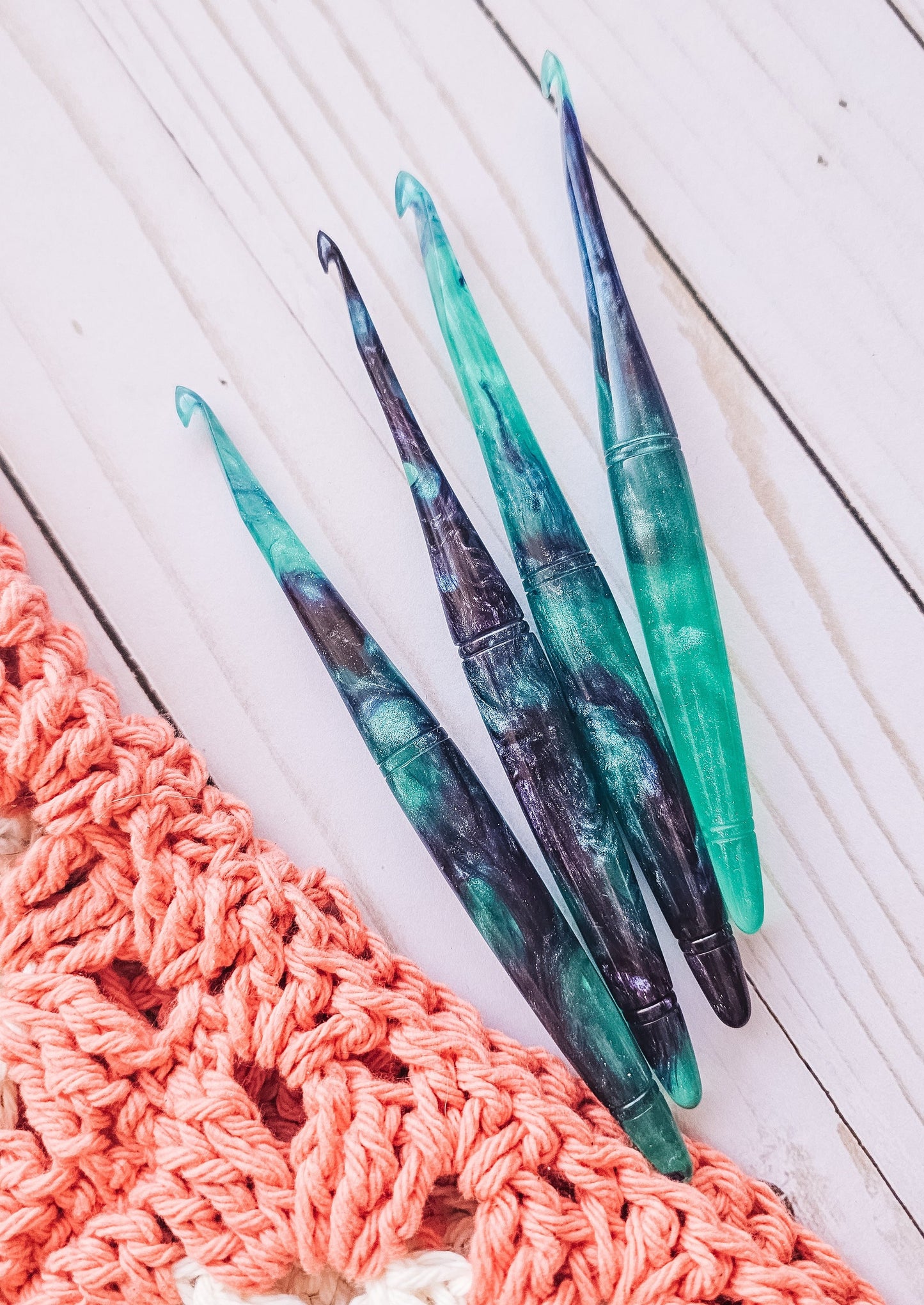 About the hooks
Slim Ergonomic Design

A more slim ergonomic handle makes it easy for both pen & knife holders to work easily. The hook features a shorter shaft that allows for better control while working stitches.

Uniquely Handmade

Each crochet hook is hand poured and carved one by one. Each color is hand spiraled which means each hook is completely unique!

In-Line Hook Head

Perfect for beginners or advanced crocheters alike! The deep seated throat prevents yarn from slipping off the hook. The pointed tip head allows you to easily insert into stitches.